From Heartbeats to Soundwaves
Celebrate your unique love story with a one-of-a-kind wedding ring that goes beyond the ordinary. Imagine wearing a ring that symbolises your commitment and echoes the very sound of your love.
Introducing our innovative bespoke Wedding Ring service – Soundwave!
Our Soundwave service allows you to engrave the audio waves of your fiancée saying those three magical words: "I LOVE YOU."
Every time you glance at your Ring, you'll feel the warmth of your partner's voice and the depth of your emotions.
Our skilled Designers meticulously transform the audio recording into a stunning visual representation of sound waves, then etched onto the Ring's surface.
The result is a seamless fusion of art, technology, and emotion. This Ring encapsulates your love story in a tangible and extraordinary form.
Step 1 - Choosing your band
The first step is to choose the metal and fit of your Ring. We have a wide choice of the highest quality precious metals, including Platinum, 18ct White, Yellow and Rose Gold.
We recommend a free, no-obligation appointment with one of our Consultants, who can guide you on the right choice of metal and get the perfect fit and size for your finger.
Stage 2 - Record Soundwave

Record your loved one saying, "I LOVE YOU".
You can record this in a few ways, but many people use smartphones.
Record Soundwave Tips
Ensure the sound wave is loud enough to create a definitive pattern that can be placed on a ring
Ensure that the words can be clearly defined within the sound wave, and take time between words to allow sound wave to 'level out'/mute
Send the file to us
Next, it's over to our Design team.
Stage 3 - Designing your SoundWave

Next, we import the sound wave into our Design software
Our designers then sketch over the sound wave's shape to create the optimal form balancing authenticity with aesthetics
We then extract this as a Vector sketch that can be subtracted from the Ring, leaving the Debossed Sound wave
The sound wave will be embedded into the Ring by at least 0.3mm
Stage 4 - Manufacturing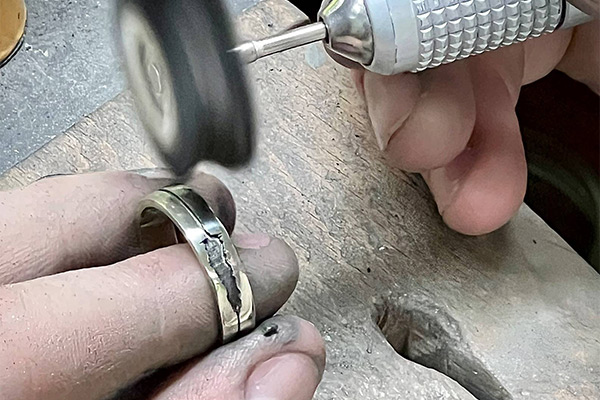 Once the design is complete we send it to our in-house team of experienced Goldsmiths, who will expertly bring it to life.
Stage 5 - Presentation
When your Ring is complete, we will contact you to come and collect your unique Wedding band and chat with our consultant about after care.
If you would like to celebrate your love with a ring that's as unique and timeless as the love you share, then contact us at 01443 222 375 or email us at enquiries@diamondcentrewales.com to arrange a no-obligation appointment.
Disclaimer: Product images and descriptions are for illustration purposes only. Actual products may vary. Audio quality and engraving details may affect the final visual representation of sound waves.